not to inflate our ego...
here's what our customers are saying!





Thanks to the SWEETEST DONATION from Sparky's Balloons, the George Hall PTA Ice Cream Social was POPPIN'! Students and their families were welcomed by a spirited balloon arch (in school colors, of course) and delighted by two GIGANTIC balloon ice cream cone sculptures! Sparky's really made our day!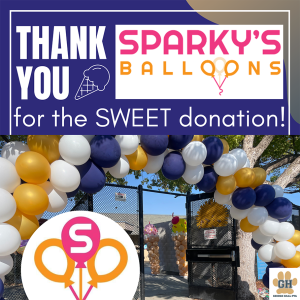 ---
Sara - Communications Chair, George Hall PTA





I used to go to Sparky's to shop for toys and balloons for my children years ago and when I recently opened up my Pure Barre in Noe Valley, I hired Sparky's to do the balloon arch for our Grand Opening! The balloons were beautiful and lasted almost 2 months! Even for adults, balloons can make your environment feel celebrated and fun! Sparky's was always prompt to respond to my emails and their staff who set up the arch was professional and easy to work with.
---
Stephany Gabriner - Owner, Pure Barre Noe Valley





Sparky's has been absolutely instrumental to the success of our company events! They always come with new and creative ideas and deliver on the vision and then some. They can take a mundane balloon display and turn it into something truly magical! I refer all my peers and friends to Sparky's to fulfill their event needs!
---
Amanda Holman - Global Head of Community & Events Real Estate & Workplace Services, Dropbox
LET'S GET YOUR PARTY STARTED!
or fill out the form below:
"*" indicates required fields